The Lowcountry's Specialist in Real Estate Training. We've been training real estate agents at our Mt. Pleasant school for over 20 years. Our classes will not be canceled! The South Carolina Real Estate Commission has approved our classes to be Live Streamed instead of in-person! For more information click here to go to Course Schedule.
For a brief outline of steps involved in obtaining your South Carolina Real Estate License click here. For frequently asked questions click here.
We offer day and evening classes to provide the best exam preparation available. We have found over the years that students do best when classes are no more than four hours long.Pass the first time. Period. See our Course Schedule for more information and course dates.
Your instructor matters. Our staff is comprised of leading real estate professionals dedicated to your success with Over 70 years combined real estate licensing experience.Click here to read information about our instructors and staff.
*Click here to read what our students are saying.
At The Real Estate School of South Carolina at Charleston we strive to give our students the tools to prosper in the field of real estate.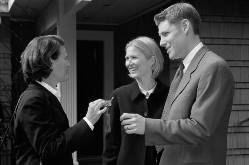 The real estate field in the Charleston area can provide the pathway to the lifestyle of your dreams for the new professional or for a career change. Real Estate Professionals enjoy one of the most flexible, self-directed careers available.
The Real Estate School of South Carolina at Charleston can show you how to enter this exciting and profitable industry today. The great thing is that we are not affliated with one, single Real Estate Company. We give our students lists of all the agencies who want to hire our students. Giving our students the greatest amount of options.
We are not about getting you in and out - We are about making sure that you succeed!
Now offering a *New* Career Starter Package Discount!Click here for more information.
Click here for directions to our school.
Questions? Call us - 843-566-9129 E-Mail us -

[email protected]